What is Bear School Gear?
Play Sound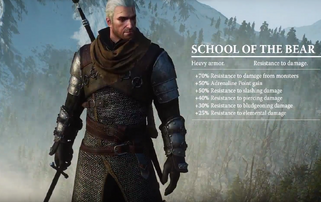 Bear or Ursine School Gear is a witcher armor and swords set inspired by the Bear School for witchers. Its one of the Scavenger Hunts quests in The Witcher 3: Wild Hunt. The set includes chest armor, steel and silver swords, crossbow, gauntlets, boots, and trousers, all of which are upgradeable except the crossbow. Also, there is not a New Game + version of the crossbow.
The gear is some of the best heavy armor found in The Witcher 3: Wild Hunt. The initial set can be found in Skellige, at the peak of Yngvar's Fang north of Urialla Harbor.
Bonuses for 3 pieces: When a Quen shield shatters, there is a chance a new one will be cast at no Stamina cost. The bonus increases by 5% for each piece of the set.
Note: all legendary gear are stronger versions of base game gear in New Game +.
Ursine gear
[
]
Enhanced Ursine gear
[
]
Superior Ursine gear
[
]
Mastercrafted Ursine gear
[
]
Grandmaster Ursine gear
[
]
Legendary Ursine gear
[
]
Enhanced Legendary Ursine gear
[
]
Superior Legendary Ursine gear
[
]
Mastercrafted Legendary Ursine gear
[
]
Grandmaster Legendary Ursine gear
[
]
Gallery
[
]