New Pokemon Games - The Loop
Play Sound
Welcome to Cianfanelli Bank, where we look after your coin as if were our own and the customer is always right

- slogan, Blood and Wine expansion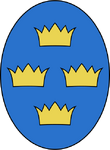 The Cianfanelli Bank is a dwarven financial institution owned by the namesake family with branches across the Continent.[1]
Their employees came under a lot of "red tape", in the many permits that surrounded their business.[2]
History
Funds from Gors Velen
In June 1267, Molnar Giancardi transferred 1,500 orens from his bank at Yennefer of Vengerberg's request to the Cianfanelli Bank in Ellander, to fund Ciri's tuition at the Temple of Melitele.[1]
Branches and Employees
A branch of the Cianfanelli Bank is located at the Gran'place, a famous square in Beauclair. It offers a standard selection of bank services, such as the ability to exchange orens and florens to crowns, and the provision of loans. This branch is headed by Giacomo Cianfanelli.
The bank is protected against several magical forms, including hypnosis, telepathy, witcher signs, and spells.
Exchange rates
Associated Quest
Trivia
In Blood and Wine, in the Paperchase quest, obtaining Permit A38 to withdraw money, is a reference to the Asterix cartoon "The Twelve Tasks of Asterix", in which French bureaucracy red tape is satirized.
Gallery
References