Difficulty level is a mechanism in The Witcher game series affect the degree of challenge each game features.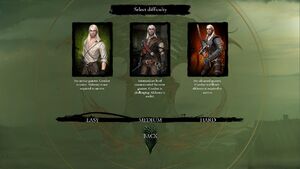 Easy - "For novice gamers. Combat is easier. Alchemy is not required to survive".
Medium - "Intermediate level recommended for most gamers. Combat is challenging. Alchemy is useful".
Hard - "For advanced gamers. Combat is difficult. Alchemy is required to survive".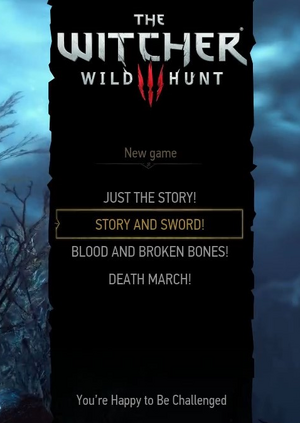 There are four levels of difficulty:
Just the Story! (Easy)
Enjoy a Smooth Ride Through the World
If you are a casual gamer or just someone who wants to play for the story, choose the first difficulty option.
Meditation regenerates vitality.
Story and Sword! (Normal)
You're Happy to be Challenged
Blood and Broken Bones! (Hard)
You're a Seasoned, Demanding Gamer
Death March! (Very Hard)
You're Truly Insane and Loving It
Choose it if you are a hardcore gamer and worry that the other modes would be too easy for you!
Meditation does NOT regenerate vitality.
Difficulty settings
These values were pulled from extracted game files and looking through the scripts.
| Stats | Easy | Normal | Hard | Very Hard |
| --- | --- | --- | --- | --- |
| Enemy Health | -50% | +10% | +20% | +80% |
| Enemy Damage Bonus | 0% | +40% | +130% | +230% |
| Experience Gain | 100% | 100% | 90% | 80% |
The difficulty setting can be changed at any point in the game through the Options menu.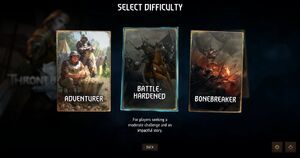 There are three levels of difficulty:
Adventurer (Easy)
For players who want to sit back, relax, and enjoy the story with the option to skip battles.
Battle-Hardened (Normal)
For players seeking a moderate challenge and an impactful story.
Bonebreaker (Hard)
For players familiar with Gwent and ready to put their skills to the test.
Community content is available under
CC-BY-SA
unless otherwise noted.