Tags: apiedit, Visual edit

Tags: apiedit, Visual edit

Line 1:
Line 1:
 
+

{{Infoboxbestiary2|name = Dracolizard|class = [[Draconid#The Witcher 3: Wild Hunt|Draconid]]|occurrence = [[Dragon Mountains]] near [[Holopole|Barefield]]

−

[[Image:Oszluzg RPG.jpg|thumb|265x265px|Dracolizard in [[Wiedźmin: Gra Wyobraźni|''Gra Wyobraźni'']] by'' ''[[Jarosław Musiał]]]]A '''dracolizard''' (Polish: ''Oszluzgs'') is a large, grey-colored, flying reptile, sometimes as big as a [[dragon]], for which dracolizards are sometimes mistaken.

 
 
+

Once they lived in [[Redania]] but were eradicated

 
+
 
+

Number of them can be found in the [[Toussaint|Duchy of Toussaint]]|image = Tw3_journal_dracolizard.png}}A '''Dracolizard''' (Polish: ''Oszluzgs'') is a large, grey-colored, flying reptile, sometimes as big as a [[dragon]], for which dracolizards are sometimes mistaken. It is said that [[Crinfrid Reavers]] made shure that all members of this specie were killed in [[Redania]].

 
+
 
+

Geralt also stated once that nothing on the world is able to parry the blow given by dracolizard's tail.

 
 
 

== [[Andrzej Sapkowski]] ==

 

== [[Andrzej Sapkowski]] ==

Line 5:
Line 10:
 
 
 

== ''[[Wiedźmin: Gra Wyobraźni]]'' ==

 

== ''[[Wiedźmin: Gra Wyobraźni]]'' ==

−

[[File:Flashback Screenshot Geralt-Letho-Slyzard.png|thumb|310x310px]]According to the ''[[Wiedźmin: Gra Wyobraźni]]'' PnP RPG, oszluzgs look like the prehistoric [[wikipedia:pterosaurs|pterosaurs]].

+

According to the ''[[Wiedźmin: Gra Wyobraźni]]'' PnP RPG, oszluzgs look like the prehistoric [[wikipedia:pterosaurs|pterosaurs]].

 
 
 

== ''[[The Witcher 2: Assassins of Kings]]'' ==

 

== ''[[The Witcher 2: Assassins of Kings]]'' ==

Line 11:
Line 16:
 
 
 

== ''[[Blood and Wine |Blood and Wine]]''[[Blood and Wine | Expansion]] ==

 

== ''[[Blood and Wine |Blood and Wine]]''[[Blood and Wine | Expansion]] ==

−

{{Infoboxbestiary2|name = Slyzards|class = [[Draconid#The Witcher 3: Wild Hunt|Draconid]]|occurrence = [[Toussaint]]}}Among others, '''Slyzard '''are appearing in second expansion for {{Tw3}}.

+

Among others, '''Slyzard '''are appearing in second expansion for {{Tw3}}.

 
 
 

=== Bestiary entry ===

 

=== Bestiary entry ===

−

* ''Coming Soon!''

+

* '' !''

 
+
 
+

=== Combat Tactics ===

 
+

* ''To be added!''

 
 
 

=== Associated quests ===

 

=== Associated quests ===

−

* ''Coming Soon!''

+

* '' !''

 
 
−

=== Combat tactics ===

+

== ==

 
+

<gallery></gallery>[[File:Flashback Screenshot Geralt-Letho-Slyzard.png|thumb|280x280px]][[Image:Oszluzg RPG.jpg|thumb|265x265px|Dracolizard in [[Wiedźmin: Gra Wyobraźni|''Gra Wyobraźni'']] by'' ''[[Jarosław Musiał]]]]{{clear}}

−

* ''Coming Soon!''{{clear}}

 
 

[[de:Oszluzg]]

 

[[de:Oszluzg]]

 

[[fr:Gluasse]]

 

[[fr:Gluasse]]
---
Revision as of 09:48, 5 June 2016
Template:Infoboxbestiary2A Dracolizard (Polish: Oszluzgs) is a large, grey-colored, flying reptile, sometimes as big as a dragon, for which dracolizards are sometimes mistaken. It is said that Crinfrid Reavers made shure that all members of this specie were killed in Redania.
Geralt also stated once that nothing on the world is able to parry the blow given by dracolizard's tail.
According to the Wiedźmin: Gra Wyobraźni PnP RPG, oszluzgs look like the prehistoric pterosaurs.
In The Witcher 2: Assassins of Kings, which appeared before Sword of Destiny was officially translated to English, the term used is "Slyzard", which is described as a huge dragon-like creature with deadly poisoned stings on the end of its tail.
Among others, Slyzard are appearing in second expansion for The Witcher 3: Wild Hunt.
Bestiary entry
Combat Tactics
Associated quests
Gallery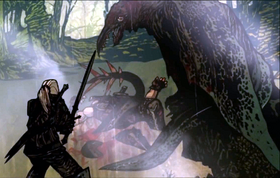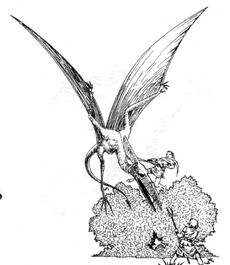 Community content is available under
CC-BY-SA
unless otherwise noted.