Giants... they've been extinct for ages. Anyone actually seen the one on Undvik?

- Geralt to Crach upon hearing about Myrhyff, The Witcher 3: Wild Hunt
A giant, sometimes also referred to as a titan, is a large, strong creature that usually inhabits mountains, but can also be found in other areas.[2]
By 1272 only a handful of them are still alive, making many people believe they're just a myth and even most witchers believe they've gone extinct.[3] Even though they are quite sentient, all attempts to communicate with them have ended in vain.[4]
Behavior
In Beauclair Palace, there is a tapestry depicting a fight between the giants and cyclopses while another shows a titan trying to kill a dragon.[5] This may suggest that giants are highly aggressive against others, even if they too are ogroids.[6]
Known giants
Trivia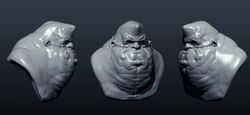 Redanian town Yspaden is be a reference to a chief of giants from Welsh tale Culhwch and Olwen named "Ysbaddaden", spelled as "Yspaden" in The World of King Arthur. The Malady.
A giant was supposed to appear in The Witcher 3: Wild Hunt as an opponent with his own bestiary entry, unique combat tactics, and other features. In CD Projekt RED's 2014 leaked materials, he's described as a "Giant human approx. 4 meters high, quite intelligent. Lives in the forests."[7] Character Art Director, Paweł Mielniczuk, even created a "one hour speed sculpts during production practice sessions."[8] However, the giant was removed later in development. It's also possible that he was simply postponed for expansions and dubbed Golyat.
Gallery
References
Community content is available under
CC-BY-SA
unless otherwise noted.