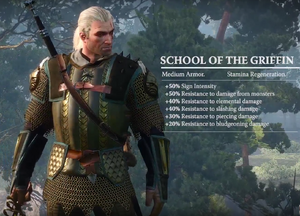 Griffin School Gear is a medium armor set of witcher gear inspired by the witchers of the School of the Griffin. The set includes chest armor, steel and silver swords, gauntlets, boots, and trousers, all of which are upgradeable. It's one of the Scavenger Hunt quests in The Witcher 3: Wild Hunt, and all legendary gear are stronger versions of base game gear in New Game +.
This set was based upon armor presumably used by the legendary Witcher George of Kagen (slayer of the green dragon in Velen) in times past.
Griffin gear
Enhanced Griffin gear
Superior Griffin gear
Mastercrafted Griffin gear
Grandmaster Griffin gear
Legendary Griffin gear
Enhanced Legendary Griffin gear
Superior Legendary Griffin gear
Mastercrafted Legendary Griffin gear
Grandmaster Legendary Griffin gear
Gallery
Community content is available under
CC-BY-SA
unless otherwise noted.