Infobox Needed
This article or section needs an infobox template added.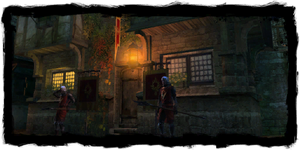 Law and order in the Temple and Trade Quarters is the responsibility of the City Guard, which is headquartered at the guardhouse. Velerad, the burgomeister's office is located there.
In Chapter III, we find that the City Guard has been forced to share their headquarters with the Order.
The source of law and order in the Merchants' Quarter is the city watch, with headquarters in the watchtower, sometimes called the guardhouse. The burgomaster Velerad can often be seen here. He oversees all affairs connected with crime and the city's security.
Associated Quests
Community content is available under
CC-BY-SA
unless otherwise noted.