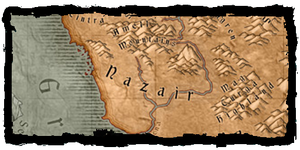 Nazair is situated just south of the Amell Mountains, through which the Slopes and Riverdell can be reached via the Theodula Pass. North of Nazair lie Cintra and Upper Sodden. To the east is Mag Turga. The river Yelena borders the province to the south, and beyond it is Metinna. The Great Sea flanks it to the west. It was conquered by Nilfgaard and acts as a vassal sate.
Heraldry
speculative coat of arms for Nazair
The coat of arms for Nazair is not actually described in the novels. These particular coats of arms were designed by our resident heraldry and Witcher expert Mboro. For a different take on the coat of arms, we have the Czech concept.
Notable cities, keeps and castles
Landmarks
Notes
Community content is available under
CC-BY-SA
unless otherwise noted.