Infobox Needed
This article or section needs an infobox template added.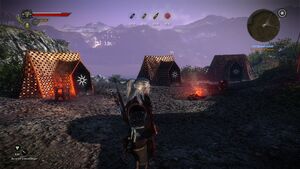 The Nilfgaardian camp is just to the north of the upper Kaedweni camp, beyond a locked gate for most of Chapter II.
After his return from his trip to Vergen across the mists, Geralt meets Roche and some of his soldiers cleaning up after a Nilfgaardian attack. Together they rush to the Nilfgaardian camp, only to see the Black Ones sailing away.