Infobox Needed
This article or section needs an infobox template added.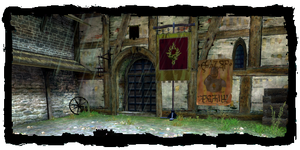 This is the Order outpost, or the guard post, in the Temple Quarter. It is where Siegfried is stationed for most of Chapter II, unless he fails in his mission to rid the sewers of the cockatrice, in which case he can be found pulling guard duty outside St. Lebioda's Hospital. It lies just past the Order armoury at the end of Roper Street where it opens onto Temple Square.
Community content is available under
CC-BY-SA
unless otherwise noted.