m

m

Line 1:
Line 1:
 
+

__NOTOC__

 

[[Image:Places_Inn_Palisades.png|300px|right|Inn palisade]]

 

[[Image:Places_Inn_Palisades.png|300px|right|Inn palisade]]

 

[[Image:Places_Outskirts_Country_Inn.png|300px|right|Inn]]

 

[[Image:Places_Outskirts_Country_Inn.png|300px|right|Inn]]
---
Revision as of 14:01, 9 September 2011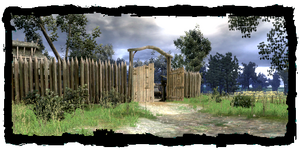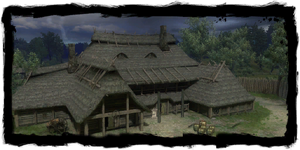 Known simply as the Inn, it is the first building Geralt finds upon reaching the Outskirts. It is surrounded by a palisade which also shelters a blacksmith, mercenaries and some stranded travellers, merchants among them.
There are two gates in the palisade. One leads to the Outskirts and the other presumably leads back towards Kaedwen, from whence Geralt arrived. This second set of gates is locked by the mercenaries who guard them at the beginning of Chapter I, and much to the chagrin of Caroline, and remain so for the duration of Chapter I.
Amenities
You can always find:
The Antiquary, who will buy and sell books and scrolls:
The Blacksmith, in the courtyard, who will buy and/or forge weapons and sell a little Crinfrid oil on the side.
The Viziman herbalist, also in the courtyard, who buys and sells herbs, flowers and a couple of books:
The merchant, Declan Leuvaarden, a bit of a late riser, but he sells jewelry of all kinds, other gift items, and flint (and, maybe you can not always find him).
Recreational activities
The inn in the Outskirts was established to cater to the needs of travelers and merchants headed for Vizima. The owner has surrounded it with a high palisade. Although the inn doesn't feature extravagant comforts, it is a safe place to spend the night and eat a meal. The innkeeper also offers a wide selection of alcohol. It is a favorite meeting place for the inhabitants of the Outskirts, so there's always someone to talk to or dice with.
Staff and Regulars
Gallery