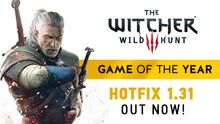 Patch 1.31, considered a hotfix, was released for The Witcher 3: Wild Hunt on September 12, 2016[1] and a few days later on September 23, 2016 for consoles.[2] This was also the final patch for PC (consoles later got upgrade patches to better utilize the newer generation's hardware).
Changes
Corrects Arabic text in the expansions.
Corrects Turkish text.
Repairs holes in Vimme Vivaldi's new clothes.
Fixes long loading times in dialogues in the vicinity of Hierarch Square.
Fixes infinite loading screen occurring during the "Pyres of Novigrad" quest when following the thief.
Corrects credits.
(Origin) Fixes NPC lipsync issues.
References
Community content is available under
CC-BY-SA
unless otherwise noted.