See: Intersection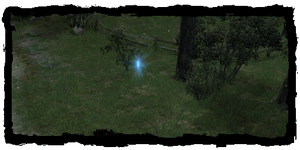 In The Witcher, Places of Power are (nearly) invisible spots where magic is concentrated. They are not Circles of Elements. Unlike those, Places of Power are practically invisible until Geralt approaches them. There is an audible roaring sound when he gets close enough to them which is also a clue to finding them. And finally, if the witcher medallion is set to detect magic, it will vibrate near the Places of Power.
These places of power are indicated on maps with a blue dot.
Rituals:
In these spots, depending on how talents have been allocated, Geralt can perform different rituals.
Geralt can perform the Ritual of Magic by default. The other two rituals require higher level Intelligence upgrades before they can be performed.
Mechanics:
Left-click on the blue light source to activate a Place of Power.
Choose the action you want to perform from the list of available actions, initially there is only the Ritual of Magic.
There are Places of power in all locations of the game, except Kaer Morhen keep, in the Prologue.
Locations:
Maps:
In the second game there are Circles of Power, which have similar effects.
In the third game places of power return and will grant Geralt of Rivia a Skill Point if their locations are found and then activated. It is important to find these as there are a limited number of Skill Points in the game. Each Place of Power is tied to one of the 5 Signs and will increase that Sign's intensity when drawn from.
Locations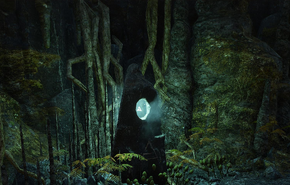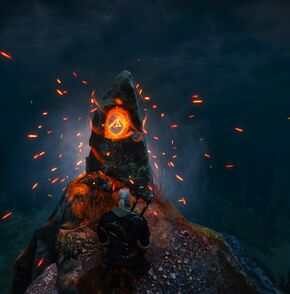 White Orchard (Six Places)
East of the Abandoned Village, a Bear awaits nearby (Yrden)
Southwest of the Abandoned Village (Quen)
Northeast of the Sawmill (Axii)
Even further north from the Place of Power by the crypt (Aard)
North of the Crossroads, just next to a ghoul nest (Quen)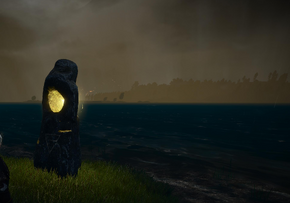 Skellige (Nine Places)
By the mountain path northwest of Kaer Muire (Axii)
Inside the Ancient Crypt, only accessible during or after The Sunstone main quest. (Igni)
In a tunnel connected to Kaer Trolde cellar. The marker on the map is northwest of Bridge to Kaer Trolde signpost. This particular Place of Power is only accessible when and if player help Cerys during a certain quest. (Quen)
Easternmost road of Ard Skellig, on the second level of a ruined building. Closest marker on the map is Gedyneith to the west. (Aard)
Slightly north of Druids Camp (Yrden)
At the summit of Yngvar's Fang (Quen)
West of Harviken, by an altar. (Yrden)
Northwest Spikeroog, near Udalryk's Family Home. Players will have to remove some debris inside one of the rooms on the main floor and jump to the other side through a destroyed wall. (Igni)
Encountered during the quest The Final Trial, by a pathway that stretch from the exit of the first cavern (the one housing Old Speartip) towards Circle of Elements. Because there's no notice board in Kaer Morhen, this Place of Power cannot be marked on the map until discovered. (Igni)
Toussaint (five places)
Other
In the quest Through Time and Space there is a missable Aard place of power in the world of vapors. If it is missed, the ability point granted by it is lost.
Notes
Ability points gained from places of power carry over to New Game + while the places of power reset. Thus, you can gain more ability points from them on another playthrough.
Community content is available under
CC-BY-SA
unless otherwise noted.