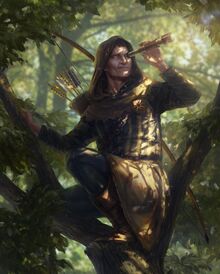 A scout or spotter is a soldier who rarely takes part in battles, but is usually used to check the battlefield and its surroundings before the fight, to search for relief troops, traps, or anything that could damage its army. During the Northern Wars, scout troops were constantly used by both Nilfgaard and Northern Kingdoms faction, covering sometimes a even more important role than infantry and cavalry troops.
Notable scouts
Thronebreaker
In Thronebreaker: The Witcher Tales, scouts are essential to discover points of interest within the map by using

.
Gallery
External Links
 See the GWENT standalone game version card: Spotter
Community content is available under
CC-BY-SA
unless otherwise noted.