To meet Witcher Wiki's quality standards, this article or section may require cleanup.
Please help Witcher Wiki by editing the article or discuss this issue on the
talk page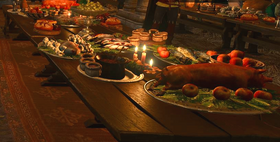 Food and drink are used to regenerate health in The Witcher 3: Wild Hunt. Each item is linked to an ability that defines the magnitude and duration of the effect. There are three quality tiers for food and another 3 for drinks.
It is possible to consume one food and one drink, in order to receive benefits from both at the same time. Consuming multiple beverages or food items won't stack (i.e. only the last consumed food or beverage effect will take place).
List of food
List of drinks
Notes
Originally, food items had weight, but this was later changed.