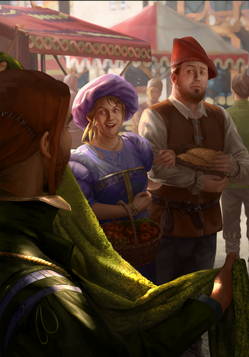 Merchants in The Witcher 3: Wild Hunt can buy and sell: food and drinks, all alchemical ingredients (except loot from monsters such as mutagens and trophies), and junk items.
Other (junk) items can be sold to merchants at higher prices compared to other types of shopkeepers, except keys and currencies. Most merchants have preferred items and will offer higher prices for them, such as blacksmiths preferring weapons, armor, and runestones. Merchants of the same type have a few set tiers for purchasing your gear, ranging from offering 20% to ~41.5% of an item's face value. Generally, but not always, merchants in villages on the continent offer the least, those in large cities (those you cannot gallop within) offer the most, and Skellige merchants typically offer 35% of the item's face value.
Waiting or meditating for 5 whole days will refresh a merchant's cash supply.
See Also
[
]
Gallery
[
]