watch 02:05
Wiki Targeted (Games)
Play Sound
Template:Gamelocation
Error: Image is invalid or non-existent.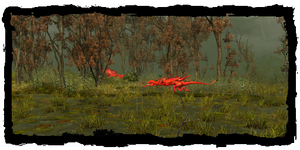 Wyvern island can be found in the north central part of the swamp forest outside Vizima, between the Druids' grove and the Mage's tower, north of the Golem Cemetery. It features, not surprisingly, a healthy colony of wyverns. In Chapter II, only regular wyverns are in evidence, but in Chapter III, the royal wyverns are there, led by Moa, an ancient female.
Associated quests
Notes
The Harvall is a quite powerful steel sword that can be found in Chapter II, or III, on a Messenger's corpse on Wyvern Island.